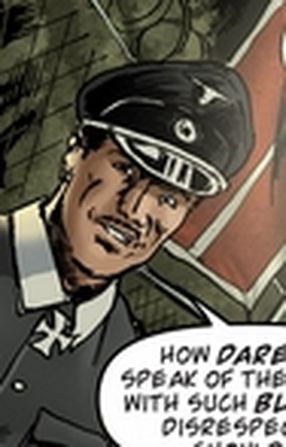 Obergruppenfüher Jürgen Hoff was the SS officer assigned to be Adolf Hitler's liason with the Vrilerinnen to take over the world. However, when the Nazis began losing the war in 1945, Vrilerinnen leader Maria decided to cut her ties with Hitler. When Hoff protested, she killed him.
Knight's Cross of the Iron Cross
Although given an SS officer's rank and seen commanding SS troops, Hoff has some odd insignia. His collar is solid white (likely a coloring error), while instead of the Totenkopf his had sports a simple silver circle.
Despite the story taking place in the 40's, Hoff is shown in the prewar all-black SS uniform.
His surname is a reference to actor David Hasselhoff, and he is even drawn to resemble Hasselhoff. His full name is a pun: Jürgen Hoff = "Jerkin' off."