Otto is the name of two characters in Raiders of the Lost Ark.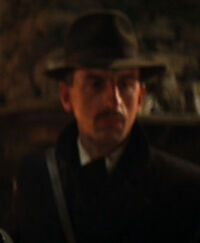 Otto was a plainclothes Gestapo agent who was one of Toht's henchmen in the Raven bar shootout. When Indiana Jones and the giant Sherpa fought to a standstill, Toht ordered his fellow German to, "Shoot them. Shoot them both." Jones and the sherpa then both shot Otto together.
His name isn't given in the film. There is an Otto listed in the credits, a German soldier appearing in Tanis. The name "Otto" in relation to this character comes from the Raiders of the Lost Ark West End Games sourcebook.
In the credits and script, he is identified as 2nd Nazi.
In Campbell Black's novelization, he wears an eyepatch and is consequently nicknamed Eye Patch.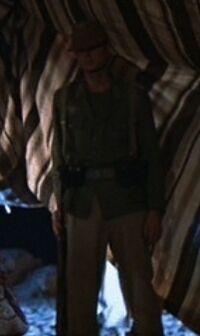 Otto was a German soldier at the dig site in Tanis. He guarded Belloq's tent and prevented Marion Ravenwood from escaping. During dinner, Belloq dismissed him at Marion's request.